BIG NEWS!THE LARGEST GREENHOUSES PROJECT FOR EGYPT!
Share
From

www.ytdrintl.com
publisher

youyouxiaotian
Issue Time

Jan 27,2018
Summary
BIG NEWS!THE LARGEST GREENHOUSES PROJECT FOR EGYPT!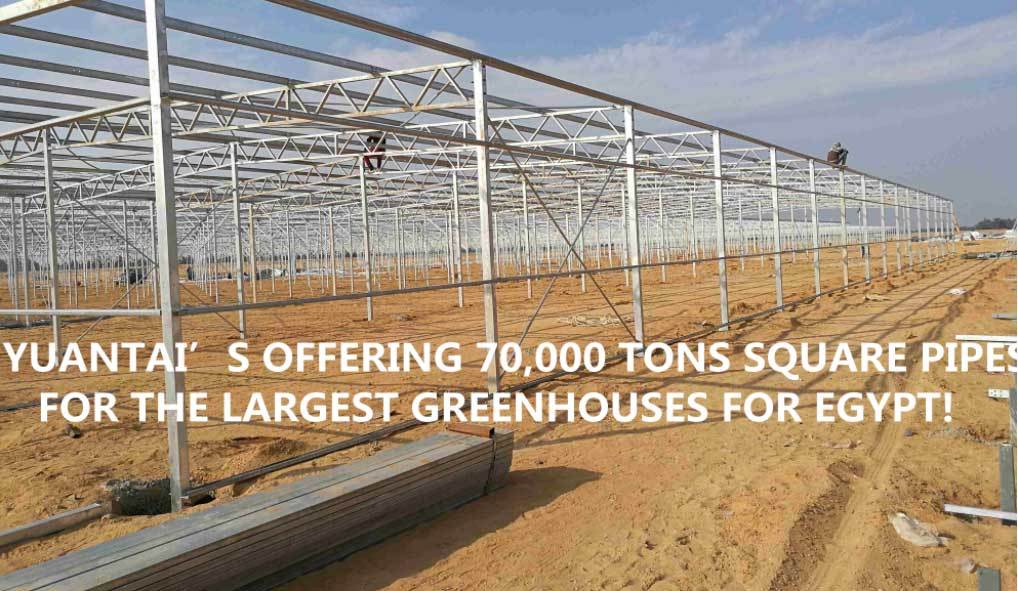 BIG NEWS!THE LARGEST GREENHOUSES PROJECT FOR EGYPT!
The project is said to be the largest of its kind in construction in the world.
Benefit from on the Belt& Road,
Since July ending,Yuantai is working on the largest greenhouse for Egypt.
Since July, about 80 factories in China have been producing components for the greenhouses as the demand is urgent and massive.
Among more than 80 factories,Yuantai is offering the largest quantity steel pipes for this project,which is 70000TONS in total!
" we feel proud that we are working for the largest greenhouses project for Egypt and feel very good to make something for it.after such many days and night,we are happy to see its outcome and Egypt people will be benefit from this greenhouses",Yuantai's workers said.
The first lot commdity loading site.
As CGTN NEWS said:
"The 400-million-dollar project agreement was signed between the Chinese company and the Egyptian government in May 2017. It is expected to be completed this year"
"The greenhouses are being built in two areas within two hours's drive from Cairo, the Egyptian capital. Each greenhouse is larger than a standard football field. In total, there will be about 3,000 of them, stretching 30 square kilometers."
material ship to Egypt site
"Made in China" is no longer just a label, it is also a pride of the people, behind which it embodies countless people's dedication and hard work. "Shouting throats is better than throwing off one's arms", hardworking and pragmatic Chinese with its perseverance, full of wisdom of creativity and unparalleled confidence in a questioning of courage to be brave, willing to sacrifice, in the blood and water Intertwined on the journey to gain glory.
Tribute to the Chinese Dream, Tribute to Made in China, Tribute to the Great Rejuvenation of Great Powers, Tribute to All Ordinary People around Our Dedication!
Yuantai ,as the largest factory group on hollow sections in China,it controls quality most strictly and offer top class service to all end users,ever offered material to The Bird Nest,HK-Zhujiang-Macau Bridge etc. Check more news about this ,you could send mail to yuantai@ytdrgg.com
You also could check out news videos on Youtube:https://youtu.be/nxCbMe1epHg